Demystifying Why You Should Own a Pistol Caliber Carbine
In a modern market dominated by the 5.56x45mm are there still compelling reasons to buy a pistol caliber carbine (PCC)?
In a word, yes.
There are several very good reasons to consider a PCC when considering a firearm for purchase. We'll cover several here in regards to home defense and personal protection, recreation, practical logistics, and competition too.
Home Defense & Personal Protection
While the most common firearm purchased today is a handgun, and the most common reason is defense, the PCC should get serious consideration when it comes to how easy it is for a user to learn and use effectively.
All firearms require a training and familiarization period. However anything that is fired from the shoulder and has only mild to moderate recoil is going to be far gentler on the user and produce positive results more quickly. The 9x19mm NATO standard, commonly known as simply 9mm, chambered as a carbine or short barreled rifle (SBR) will have mild recoil and far more accuracy and ease of control than a handgun in the same caliber.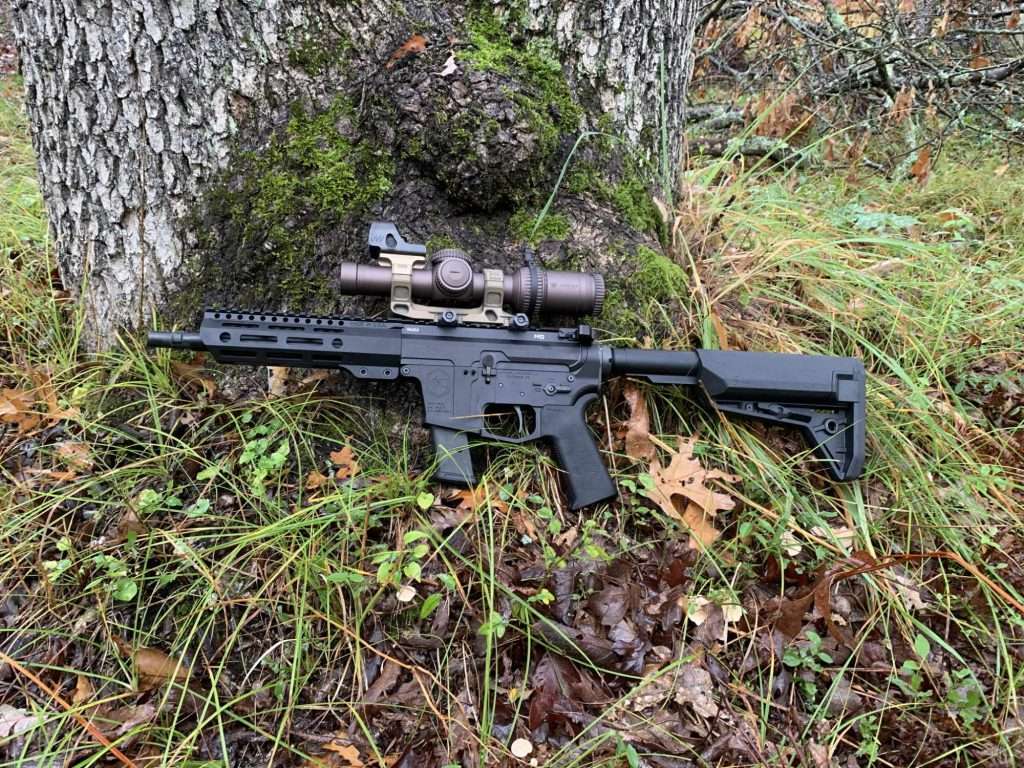 That stems directly from the amount of control you can exercise over the gun. A long gun, any long gun, has three primary points of control that are distributed linearly along the length of the gun. PCCs, even at their shortest, are considered 'long guns' if they are meant to be fired from the shoulder primarily. A few other methods exist, like sling tension, but those are specialty and for specific purposes and configurations. For our purposes and in general these PCCs have stocks and a place for both your left and right hands to rest and control the gun.
These three points of primary control, both hands and the user's shoulder, aid the user in aiming, moving with, and shooting accurately with the PCC. A handgun, while smaller and lighter, only has one point of control for one or both hands. They are harder to shoot in every way than a PCC in the same caliber.
9mm is Everywhere
This one is straight forward. The 9x19mm NATO round is everywhere. It is the most commonly produced centerfire round in the world. It is popular and plentiful. Even when ammunition becomes short in supply it will be one of the quickest to come back into stock.
Plentiful and inexpensive means a user can afford more. More ammunition afforded means more training, practice, competitions, or just fun range time per dollar spent. More time on the gun results in more confidence and trust in the gun. You only get better at shooting by doing it.
9mm is Effective
If you do a search for 'most effective home defense round' you are going to find a lot of information. You will find a lot of text devoted to the 5.56x45mm/.223 Remington and the 12 and 20 gauge shotguns with buckshot or slugs in their tubes. These articles are often filled with good information and, yes, in most contexts they are more effective than the 9mm on a shot per shot basis.
However 9mm isn't the most popular round in the world because it's fun to look at. Billions of dollars of time and material have gone into making the 9mm an effective round for sidearms and PCCs. It is very good at what it does within its performance envelope. It is that envelope
Those distances are often underestimated because of poor pistol shooting. A distance of 25 yards is not difficult because the pistol rounds are 'inaccurate' but because the pistol is difficult to shoot. Those same rounds going about the same speed will be much more accurately delivered, and quickly delivered, with a PCC.
9mm in a PCC is easier by an order of magnitude to shoot effectively. The same holds true for other calibers that go into both handguns and long guns, with .40 S&W and .45 ACP being reasonably common. These calibers, with modern hollow point ammunition, offer more than adequate performance to be used effectively for personal protection. This is especially true in the home or another structure where a PCC can be more easily kept and accessed.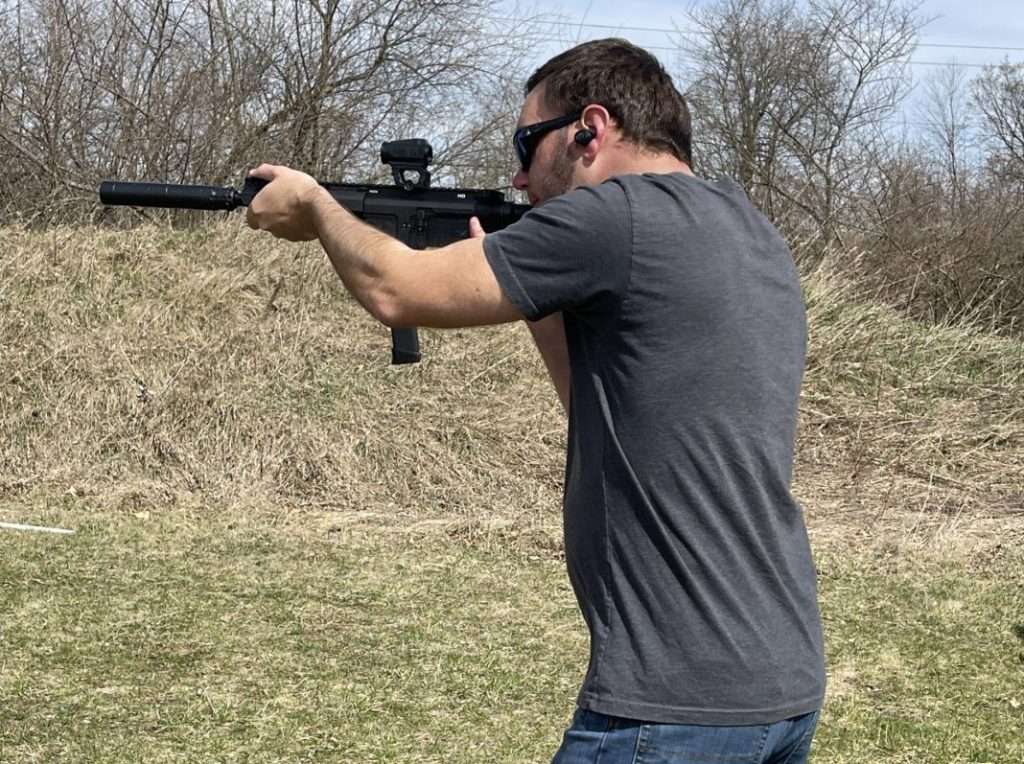 There are More Places and Events to Shoot Your PCC
This one is also fairly straightforward, but the effects are far reaching when it comes to using your PCC. Anywhere you can safely shoot a handgun you can safely shoot a PCC. This is not true for rifle calibers which need a higher grade of backstop. Ranges that allow handguns will also almost certainly allow PCCs to be shot there too.
There are also PCC divisions of popular shooting sports, like Steel Challenge and USPSA, because they can be safely shot with the same targets and range requirements as regular pistols. This offers PCC owners fun and challenging ways to use their firearms in places and events where rifles cannot be shot.
Taken in total, a PCC offers its user the shortest learning curve to efficacy with the some of the best opportunities and options available to shoot and learn in a very cost effective ammunition type.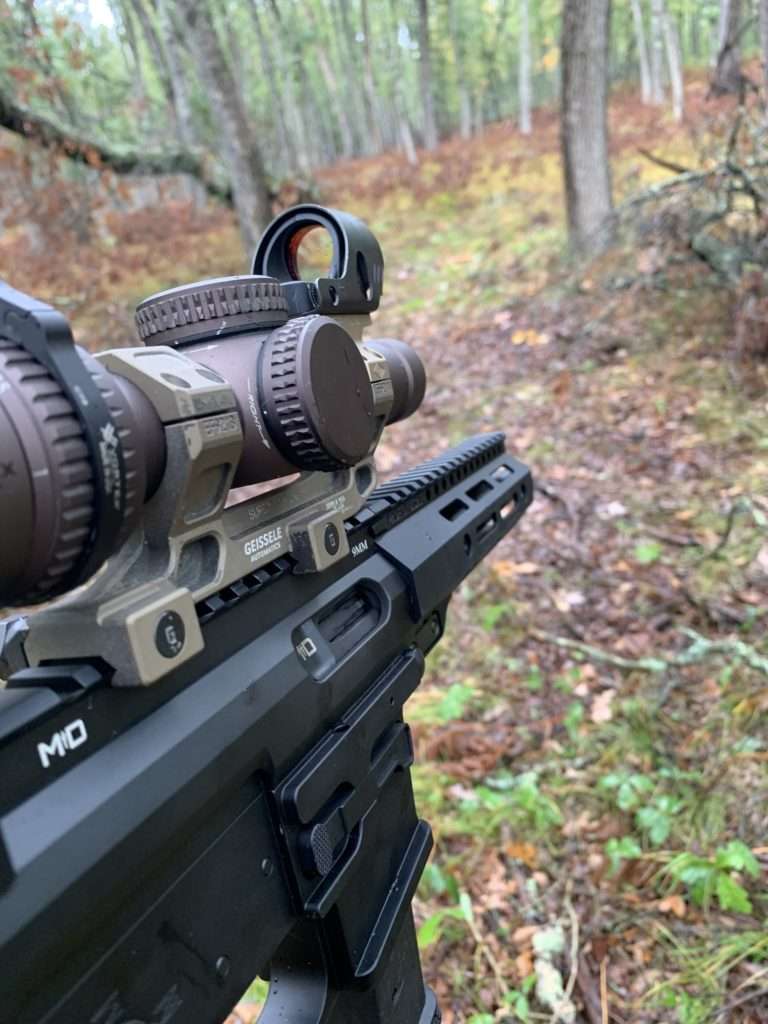 PCC Cautions
We would be remiss not to mention the most important reminder for PCC users considering one for protection and defense.
The main reasons that tactical law enforcement teams have gone to 5.56x45mm for their long guns is a combination of greater immediate effect on target and better effects when it comes to intermediate mediums and spaces. To slightly oversimplify this, it is somewhat safer and more effective to shoot a 5.56x45mm round in occupied interior and exterior spaces than a pistol, PCC, or shotgun due to how the ammo behaves when it hits things. Keep in mind that this difference is contextual to common interior walls stopping rounds that miss, and the effect of an individual hit from a 5.56 compared to a 9mm.
It is too simple to just say the 5.56x45mm hits harder. It does, but it also hits through things like vehicle bodies, vehicle glass, certain wall materials, and energy transfers to its target in ways that are often better for LEOs dealing with armed and dangerous individuals in ways that a home defender are less likely to encounter. It also covers a greater range with efficacy.
You as a citizen owner are far less likely to be taking down an active shooter in a school, or a hostage taker almost 100 yards away holding a child, than you are to be confronting someone at the close distances inside your home or office where your carbine resides beside you.